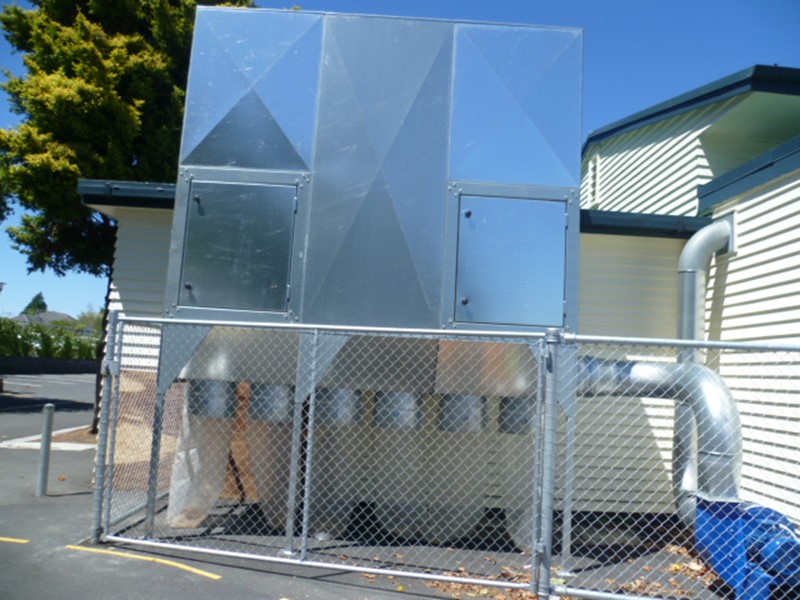 School dust filtration at low cost!
---
Geoff Ebdon from NZ Duct+Flex visited the school and advised a 3 Module Bag Emptying Filter from Danish manufacturer JKF Industri – Europe's leading dust and fume extraction supplier. The Filter needed to handle the requirements of numerous woodworking machines, and above all, be as easy for the school to maintain as possible.  In addition, there is an increasing trend in schools for the 'woodworking' room to be open plan alongside the 'planning' area where students sit and design for long periods of time. This requires the whole area to be dust free to protect student's lungs, staff and keep dust away from the computer aided design equipment.
Large filter area for long-term performance
The three Module Unit selected gave the school a much larger filter area than normal to aid long-term suction performance. In addition, Anti-static Filter Bags were selected to reduce sawdust retention in the bag material and increase long-term performance.  The unit was twinned with a JKF Industri Material Handling Fan – from the same manufacturer this is known to match the filter performance.
Empty those bags!
 "One of the problems with school dust extraction systems is that no matter how good the extraction system is on day one, it only remains efficient if someone remembers the empty the bags!" The Filter from JKF has clear poly bags below the 4 exits. It is not only obvious when the bags are starting to fill but it is easy to unclip them and empty them.
NZ Duct+Flex extraction units are delivered flat packed and assembly is easy - this unit was put together a few days by the school caretaker with assistance from NZ Duct+Flex. Modular filters are simple, robust and strong, requiring little maintenance once in use.
Save your budget!
The versatility of using the Modular ducting components that it makes installs of this nature so efficient as inevitably measurements 'change' and machine positions get moved even after final drawings are supplied. Expansion or modification at a future date is no headache as all the components can be reused. Money is always saved longer term with a Modular System.
Solution for schools
3 Bay Module Filter

JK 35D 15kW Fan
LIPLOCK DUCTING