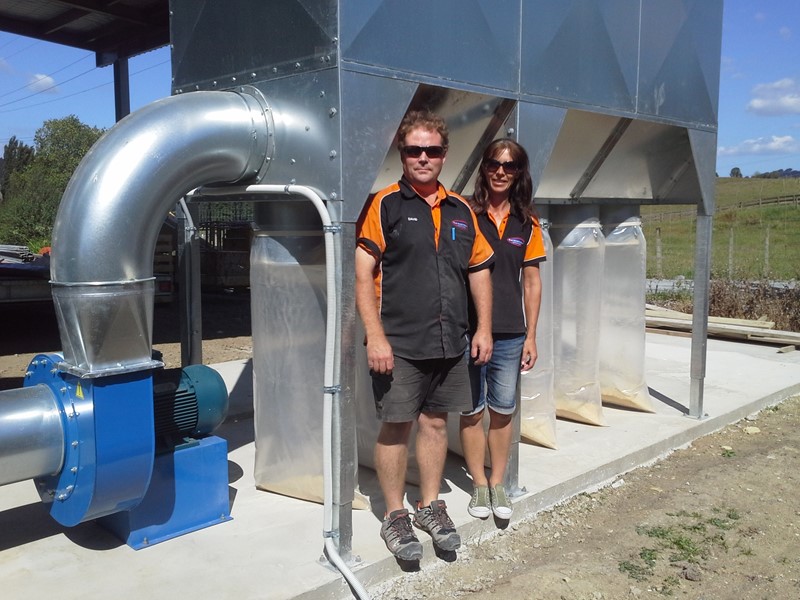 Self-build dust extraction saves money for one Master Joiner
---
Fine Woodworking, a kitchen and joinery business based in Te Kuiti, has been manufacturing high quality kitchens, timber joinery and furniture for the past 16 years for both the residential and commercial market. 
A couple of years ago, owners David and Alison Higgins decided to extend their workshop to meet an increasing workload and also to make space for a CNC machine.  Finally, armed with plans and the necessary consents, work began on the extension in November 2013. At that time they decided that the faithful old mobile 3 bag extractor was not going to handle the added extraction demands of the CNC and that they needed a 'better' dust extraction solution. 
Self build saves install costs
Due to Fine Woodworking's central location, installation costs could be high due to the costs of installer's travel, accommodation and actual installation fees. This got David thinking – could they do the installation themselves and save 30% of the cost?
Alison Higgins says that the advice from Geoff Ebdon at NZ Duct+Flex and his knowledge was invaluable, and his willingness to take the time to call in so quickly (while on holiday) and discuss the various stages was very much appreciated.
Despite a few phone calls to Geoff at the start, the extractor was put together fairly quickly by David, with an extra pair of hands here and there!  Geoff comments that an experienced team of installers can assemble a similar unit in a day and a half, however David proved it can be done 'in house' and has now fully future-proofed himself to expand in the future by choosing a modular unit.
"The modular system can easily be added to as the business expands," explained Geoff. "David will be able to do this himself by  removing the end panel, adding another module and bolting the ends on again."
Fine Woodworking's Extraction system:
JKF 35D Fan 11kW (reduced via VSD to about 6kW)

JKF E3-LS Modular Filter from JKF Industri
A complete LipLock® modular ducting system – galvanised at source in Sweden for best possible corrosion protection