How can filters be safer?
Most JKF filters can be specified to European Safety ATEX standard. This is done by fitting explosion release panels into the  filter casing.
Many other manufacturers can also do this but they place the explosive release membranes on the sides of the filter. This allows the explosion to escape, but, it does so with a shockwave and fire burst that can be 50-60 metres long. It injures anyone near the filter at the time.
Unique Vertical Force Venting 
JKF Superblower, Jet, Blower and Ultra Safe Modular Filters (MMBF) release the shockwave through the roof. There are no flames, no damage and no injury to staff unless they are on top of the filter at the time. (Not likely). After the event, the membranes and filter socks will need replacing but the filter can be up and running again – there is no fire to cause un-repairable damage.
Tests in the German test centre, FSA, proved the JKF system called VFV allowed only the shock wave of the explosion to escape via the roof panels, no fire, no dust and no potential to create secondary explosions. This is the safest explosive release system available... and it costs no more than the less stable version!
This system developed at JKF in Denmark ensures no damage to surrounding and even the filter is protected; just replace the filter socks and the membranes and you are running again.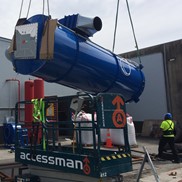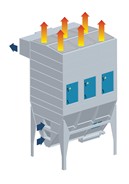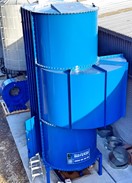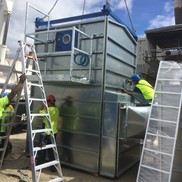 For more information click here