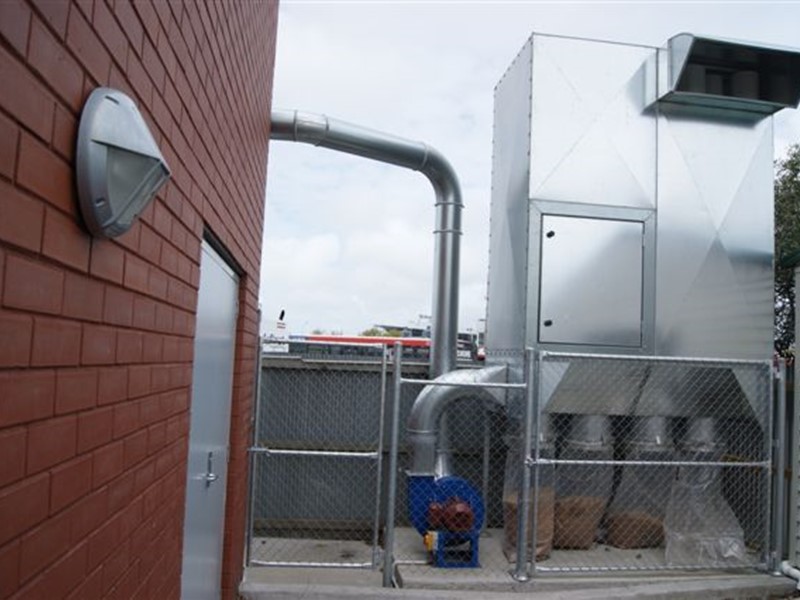 Effective dust filtration installation for Christchurch School
---
Geoff Ebdon from NZ Duct&Flex advised a 2 Module Bag Emptying Filter from Danish manufacturer JKF Industri - Europe's leading dust and fume extraction supplier. There is an increasing trend in schools, for the Woodworking room to be 'open plan' , where students with computer equipment sit and plan nearby the machinery.
Empty those bags!
The new style rooms require a dust-free area to protect student's lungs and electrical equipment. Geoff Ebdon comments - "One of the problems with school extraction systems is that no matter how good it is on Day 1, it only remains efficient if someone remembers to empty the bags!  So many of the schools I visit have overfull containers of dust and clogged filters behind closed doors - and teachers wonder why they haven't got any suction!"
The filter installed here has 4 clear poly bags below the 4 exits so it in not only obvious that the bags are filling up but it is easy to unclip and empty them. The whole system is very quiet and doesn't interfere with teacher-student communication and is a low pressure, low maintenance design ie. bigger filters with more surface area to last longer and be more cost effective in the long run.
This Christchurch school Technology Room is in great shape - is yours?
Solution for a School Technology upgrade:
JKF Modular filter

JKF Fan
JKF Liplock® duct system