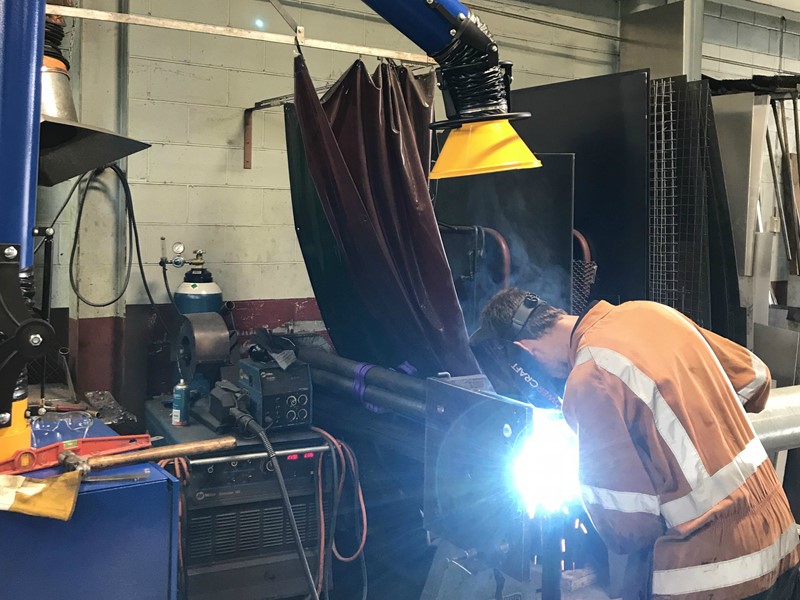 Dealing with dangerous fumes – 2 years on
---
It's been nearly 2 years since changes to rules regarding Health and Safety responsibilities got everyone talking, especially companies who had workshops identified as needing to create a 'better' environment,  if they were deemed to be compliant for their welding operations.
When Warren Heron, General Manager from Wallace Herron, decided to improve fume extraction at his busy Pukekohe workshop, he, like many workshop operators was concerned about committing to the cost of products whilst ensuring the solution would work. Warren's particular issue was dealing with 12m steel lengths meaning a 'fixed' extraction system would not be suitable as the welder needed to move along the lengths of steel.
NZDuct+Flex offer a range of European sourced fume solutions ex stock and were able to suggest the perfect product  – better fume extraction for the Wallace Heron staff (who provide a vast range of services for the engineering industry including repair, manufacturing and fabrication), with no additional install costs and no need to cut through a roof.
"Due to the solid tubes and external hinge system of the Fume Arms, little maintenance is required compared to cheaper models available that use hose and internal moving parts which can jam. Often people fit a hood above the welding area but this just drags the fumes past the workers face on its way to the hood." says Anton Napier, Sales Manager for  NZDUCT+FLEX in Auckland. " Our customer has an economic fix that will always be useful in the future."