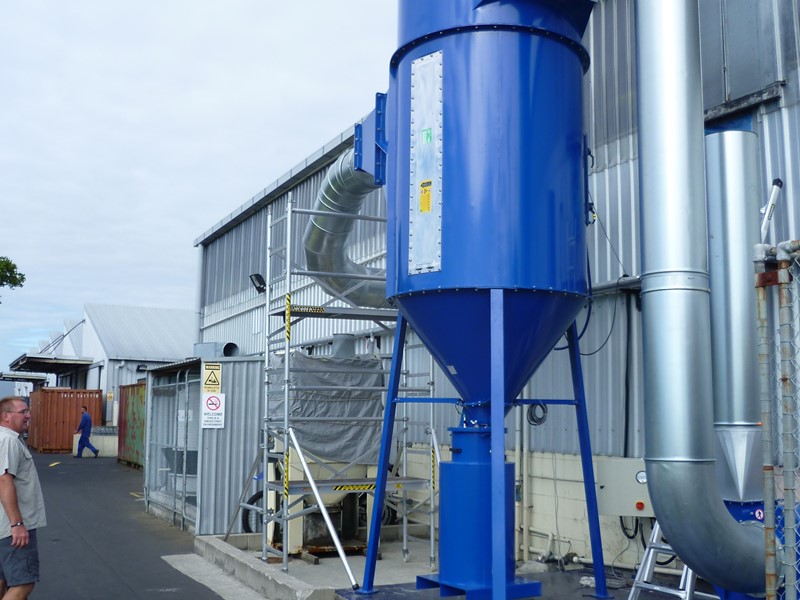 Tap into clean technology using minimum compressed air !
---
When initially asked by Johan Venter, the Methven Engineering Manager for a solution for the area, Geoff Ebdon from NZ Duct+Flex suggested a 20 cartridge unit DS-20 DustStorm model with Pulse Cleaning.
What is a DustStorm?
This unit is one of a range of DustStorm models manufactured by JKF Industri in Denmark. All DustStorm models are easily erected due to a 3-part system: Base/Leg unit, Central Filter Cartridge Section and the Top Unit housing the cleaning system.
"Simply choose which model fits your volume extraction needs, then you select from a range of Filter Cartridge types to suit the dust you are collecting. The filters hang in the central section vertically with good spacing between cartridges aiding airflow and cleaning," confirmed Geoff Ebdon. The 20 filter cartridges give a filtration area of 142sq metres and the top section has a rotating arm that cleans each cartridge separately for maximum filtration efficiency and minimum use of compressed air. After a typical installation, the installers WHO ARE NZ Duct+Flex employees, set the cleaning cycle initially on the Electronic Control System so that the cartridges can be cleaned for example every hour. But if the system detects a pressure differential above a certain level (ie the cartridges need cleaning), the unit will automatically start to clean itself.
Robust, low maintenance
Like many things from Scandanavia, the filters are robustly built and designed to last, with minimum attention. Great design emphasis is placed on energy saving, reduced compressed air use and maximising replacement time for cartridges. Installed all over Europe, the Middle East and Asia, these DustStorm models are found in schools, welding shops, cement, plastic, chemical, agricultural and pharmaceutical industries. They are also available in stainless steel for the food or chemical industries.
Whilst this system minimizes inspection time and maintenance, it also helps save energy and compressed air use, as well as improving the environment - important for Methven who are a company fully committed to sustainability issues in all their business functions.
Solution for a foundry:
JKF DustStorm filter with explosion membrane