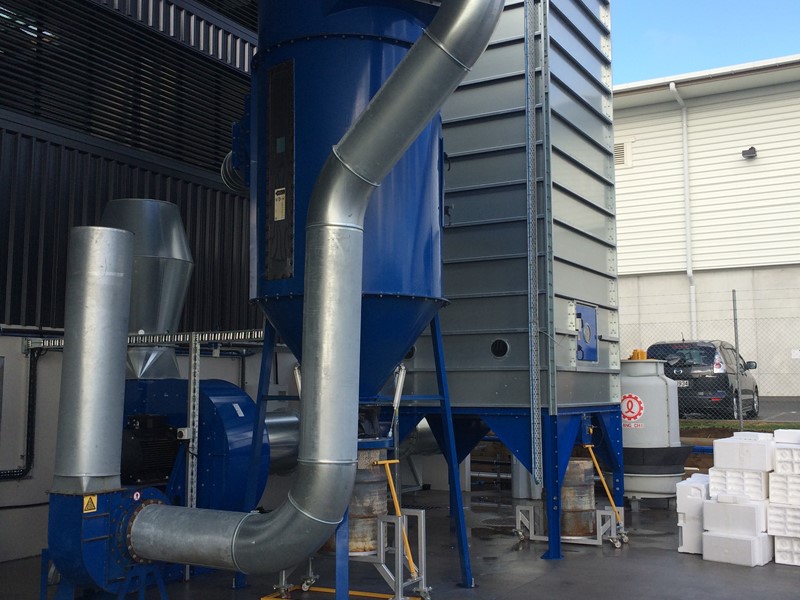 Saving Space, Energy and Cost: JetFilter provides dust solution for large tap ware manufacturer
---
2 Super Jet filters have now been installed in NZ by NZDUCT+FLEX, distributor for the world leading filtration experts JKF in Denmark. The unit was chosen by Methven  recently  as it offers significant cost savings compared to a Modular filter large enough to handle similar air volumes, whilst also saving space because of the Jet filter's very compact foot print.
 These are one of the newer filters from the JKF range and are fitted with POWERPULSE cleaning meaning,  along with  JKF Super Blower filters, they are the world's lowest energy consuming pulse filters. Fully automated sensor controls give you 24/7 operation if needed, the power usage and compressed air required is the lowest on any filter system available.
 PowerPulse is  a unique cleaning system that operates only when the socks actually need cleaning, and is the most effective cleaning system in the world's extraction market: PowerPulse waits until its sensors inform it that the socks need cleaning. The mobile header unit then moves around, sensing the air flow through the filter socks as it does so.  It then selects just enough compressed air to clean the individual sock. While every other filter uses a fixed pulse of around 5 bar, PowerPulse adjusts automatically between 1.5  and 5 bar depending upon the degree of dust build up
Innovation in JKF means our company has now secured a well deserved reputation of offering equipment for dust filtration that is 30 years ahead of anything seen in NZ and, and at half the price!  
The 2420mm square foot print supports a filter system capable of handling air volumes up to 67,000m³ – an ideal product for new installations where sites cannot accommodate a large modular unit.
Dust can be dangerous. Dust explosions do occur and can destroy plants and severely injure staff. Most JKF filters can be specified to European Safety 'ATEX' standard. Many other manufacturers can also do this but they place the explosive release membranes on the sides of the filter. This allows the explosion to escape, but it does so with a shockwave and fire burst that can be 50-60 metres long. It injures anyone near the filter at the time.
JKF Super Blower and Super Jet filters release the shockwave through the roof. The feature is called VFV – vertical force venting.  There are no flames, no damage and no injury to staff (unless they happen to be standing on top of the filter at the time).  After the event, the membranes and filter socks will need replacing but the filter can be up and running again very quickly – there is no fire to cause un-repairable damage.