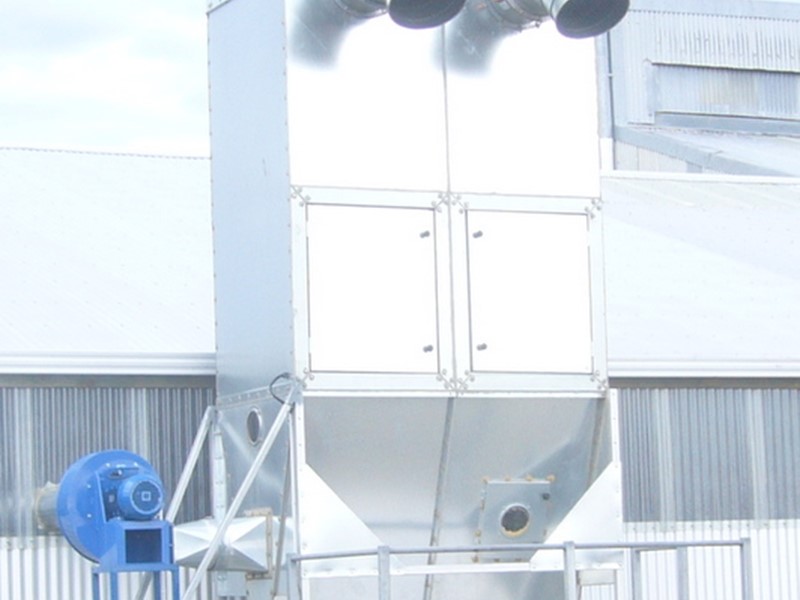 New CNC machine? How to deal with extraction issues !
---
Rotary valve exit for ideal solution
Classique Plastics specialise in mastering challenging plastic projects and mouldings for their domestic and international customers, and have also established sheet metal and engineering departments that are used to build the machinery and moulds required for both Rotational Moulding and Acrylic Thermoforming.
NZ Duct & Flex suggested a 2 unit Modular Filter with Reverse Air Cleaning for the 28 Filter Bags. The Rotary Valve exit to the collection bin and a high volume fan were to be a perfect solution.  All components including the Filter, Fan and Filter Bags are from Danish based company JKF Industri.
Improving the environment for staff health and safety
Manufactured from Galvanised Swedish steel, many features on the filter including large inspection doors for easy access to the bags, convenient viewing window and Reverse Air Cleaning were ideal in price and performance for this installation.
Like supplier JKF Industri, NZ Duct+Flex promotes the principle of large volume-low pressure operation for filters. "We give you a bigger filter for the money, it works less hard and the benefit to the customer is low wear on the filter bags, the longer life saving money on replacement and almost eliminating blockage problems." says Ebdon. "It constantly amazes me that companies will spend large sums on refits in the workshop and not upgrade their extraction – resulting in dust all over boards being cut, dust on the cutting beds and all over the workshop and clothes of the machinists."  
 Customer says fantastic result!
Allen summed up the finished refit saying – "The only complaint I had with this new extraction system was initially it was too powerful! It was actually lifting the boards off the CNC machine. It has all been adjusted down now so we have plenty of reserve suction to add a saw or two or other machinery as we further grow the business. A fantastic job."
Solution for a plastics engineering specialist:
2 Bay JKF Modular Filter with Reverse Air Cleaning
JK 30D 7.5kW Fan
JKF Rotary Valve