Duct End Seals
---
Additional Information
Duct End Seal/Rubber Gasket.
Use in conjunction with Standard locks to give an even closer seal.
Fit the seal over lip of the end of one duct and join as normal.
Use only ONE rubber ring per connection.
Made from EPDM rubber.
The operating temperature is from -40°C to +100°C.
---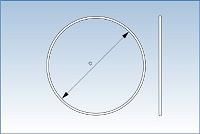 ---